Modular Synthesizer Front Panels
Custom Aluminium Metal Front Panels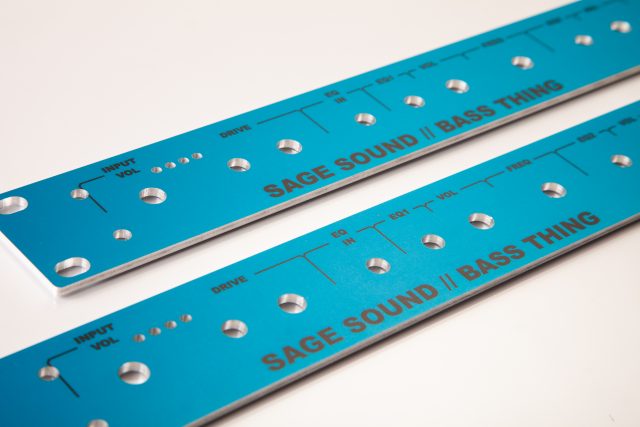 Modular synthesis is here to stay. We love it!
With the growing interest in Eurorack, MU and 5U formats, we've decided to offer absolute freedom in creating custom modular synths front panels.
All you need is a design of your panels in vector format, and we'll take care of the rest. We also accept files (.fpd) from the specialised software Front Panel Designer.
Choose aluminium thickness (1.5mm – 2mm – 2.5mm or 3mm) you want and we will manufacture all for a fixed price.
No extra charges for Setup, Preprint checks or creating cad/cam program.
Order any format panel and pay per HP (horizontal pitch, 5.08 mm or 1/5 inch or 1/5″)
Calculation is simple, for thickness 1.5 mm and 2 mm:
3U (Eurorack) Panels: 1HP = £1.5 + VAT
4U Panels: 1HP = £1.8 + VAT
5U Panels: 1HP = £2.1 + VAT
For thickness 2.5 mm and 3 mm:
3U (Eurorack) Panels: 1HP = £1.8 + VAT
4U Panels: 1HP = £2.1 + VAT
5U Panels: 1HP = £2.5 + VAT
For example, 10 HP (approx 50mm) VCA anodised aluminium 4U 2mm panel printed and cut via CNC milling machine will cost you £18 + VAT.
Mixed/unique 2mm Eurorack panels (13 x 8 HP, or 26 x 4 HP, etc) totalling 104HP (case width) will cost £156 + VAT.
Concentrate on music, innovation and creativity. Take control over every bit of the sound while we make sure front panels required for hardware synths produced to the highest standards and delivered as promised.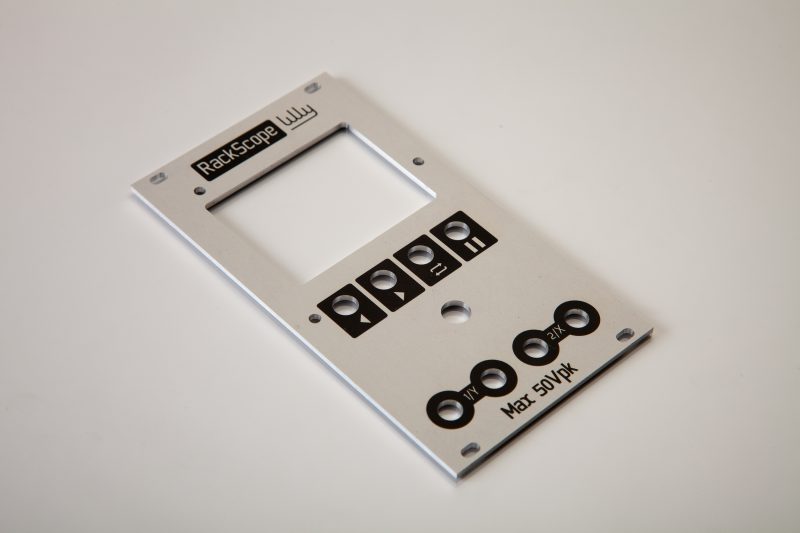 After manufacturing hundreds of panels for Eurorack, Moog and Buchla, formats like MOTM, EMS and Serge, Frac racks, we at Meface, honestly believe our team understands your needs.
Your physical, electronic devices (analogue or digital) usually designed for mounting in a prefered format rack and can be moved around to form random layouts. Keeping in mind there is no default signal routing and modules connected with patch cables, time and time again, users are likely to prefer having solid anodised aluminium and, most importantly, scratch-proof panels..
Even if you are happy with the price, sometimes you need quality assurance.
Our guarantee is simple. We will produce a one-off sample panel with your design for the fixed price per HP you saw, and if you are not happy with it – we'll refund you all the money, including return postage costs.
We are a team with many skills shared between us and can work on your projects day and night.
Meface supplies anodised aluminium labels, nameplates and front panels with sub-surface digital printing to many well-known companies in the transport, medical, audio and other sectors.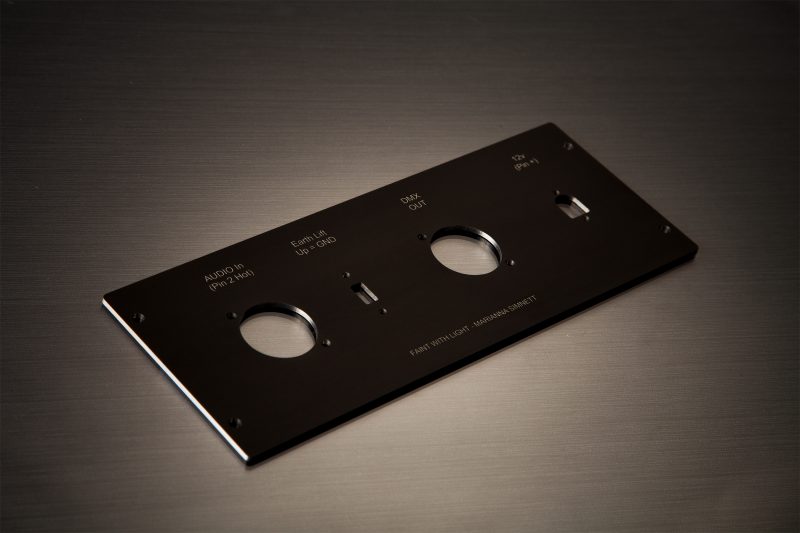 Your project and needs are our priority.
Quality product and quality service is our way to show it.
Drop us a quick email or chat online with anything you need!